AA Boomers
Eating Well Over 50: Nutrition and Diet Tips for Healthy Eating as You Age

For adults over 50, the benefits of healthy eating include increased mental acuteness, resistance to illness and disease, higher energy levels, faster recuperation times, and better management of chronic health problems. As we age, eating well can also be the key to a positive outlook and staying emotionally balanced. But healthy eating doesn't have to be about dieting and sacrifice. Whatever your age, eating well should be all about fresh, colorful food, creativity in the kitchen, and eating with friends.

-Feed the Body, Mind, and Soul

-What Your Body Needs

-Tips For Wholesome Eating
-Changing Dietary Needs
-Tips for Creating a Well Balanced Diet
-Overcoming Obstacles to Healthy Eating

-Tips for Staying on Track

Healthy eating over 50: Feeding the body, mind and soul
Remember the old adage, you are what you eat? Make it your motto. When you choose a variety of colorful fruits and veggies, whole grains, and lean proteins you'll feel vibrant and healthy, inside and out.

-Live longer and stronger – Good nutrition keeps muscles, bones, organs, and other body parts strong for the long haul. Eating vitamin-rich food boosts immunity and fights illness-causing toxins. A proper diet reduces the risk of heart disease, stroke, high blood pressure, type-2 diabetes, bone loss, cancer, and anemia. Also, eating sensibly means consuming fewer calories and more nutrient-dense foods, keeping weight in check.

-Sharpen the mind – Key nutrients are essential for the brain to do its job. People who eat a selection of brightly colored fruit, leafy veggies, and fish and nuts packed with omega-3 fatty acids can improve focus and decrease their risk of Alzheimer's disease.

Read More: http://www.helpguide.org/life/senior_nutrition.htm
"
Aging-in-place" features for the home gain higher profile as Baby Boomers get older"
By
Wendy A. Jordan
,
Washington Post
Susie McSweeny built their Edgewater, Md., house in 2013, they asked their architect to incorporate "aging-in-place" features — including an elevator, wide doorways to accommodate a wheelchair and a flat, no-step entryway — into the design.
At 72 and 65, Tom and Susie McSweeny love to ballroom dance. "Tom does a mean samba," Susie says.Still, Tom has arthritis. So, despite their active lifestyle, when the McSweenys built their Edgewater, Md., house in 2013, they asked their architect to incorporate "aging-in-place" features — including an elevator, wide doorways to accommodate a wheelchair and a flat, no-step entryway — into the des"You have to be realistic," says Susie, who hasbackground in nursing. You don't know what health issues you may develop as you get older, but "you try to plan for it so that you can enjoy your later years." The McSweenys said they wanted to prepare their home now so that those accessibility features would be ready and waiting. Aging-in-place design choices are gaining a higher profile as baby boomers become a larger and larger segment of the population. According to AARP, the majority of older Americans want to stay in their homes permanently and live independently. This demographic change translates into demand for residential designs that anticipate changes in health, vision or mobility, and ensures that homes stay safe, comfortable and
Read Morehttp://www.washingtonpost.com/realestate/aging-in-place-features-for-the-home-gain-higher-profile-as-baby-boomers-get-older/2014/03/06/9f590d34-67fb-11e3-a0b9-249bbb34602c_story.html:
Standing by Her Story Anita Hill Is Celebrated in the Documentary 'Anita'
By Sheryl Gay Stolberg  
The New York Times
Anita Hill, photographed at Brandeis University, is the subject of a documentary, WALTHAM, Mass. — On the day in 1991 that the Senate confirmed Clarence Thomas to the Supreme Court, Anita Hill — the little-known law professor who riveted the nation by accusing him of sexual harassment — faced news cameras outside her simple brick home in Norman, Okla., with her mother by her side, and politely declined to comment on the vote. In the nearly 23 years since, Ms. Hill, now a professor of social policy, law and women's studies at Brandeis University here, has worked hard, she likes to say, to help women "find their voices." She has also found hers — and she is not afraid to use it. "I believe in my heart that he shouldn't have been confirmed," she said in a recent interview, acknowledging that it irritates her to see Justice Thomas on the court. "I believe that the information I provided was clear, it was verifiable, it was confirmed by contemporaneous witnesses that I had talked with. And I think what people don't understand is that it does go to his ability to be a fair and impartial judge."

Read More: http://www.nytimes.com/2014/03/16/movies/anita-hill-is-celebrated-in-the-documentary-anita.html?_r=1
A Midcentury Travel Guide for African-American Drivers Navigating Jim Crow
By Rebecca Onion Slate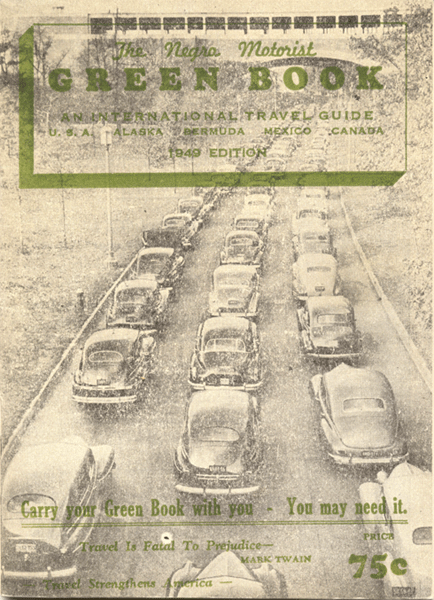 The Negro Motorist Green Book was a guide that helped African-American travelers identify friendly hotels, restaurants, and mechanics when they were on the road.  Harlem postal employee and publisher Victor H. Green published the Book annually from 1936 to 1964. As historian Cotton Seiler points out, the Green Book flourished during a time when cars were getting cheaper, and travel by automobile was becoming more common. For black drivers, however, freedom of the road had its limits. These travelers had to navigate segregated accommodations, couldn't join AAA, and received disproportionate levels of attention from the police and local racists. This 1949 edition of the Green Book contained a message from an outreach representative of Esso Standard Oil; a feature story on Robbins, Ill. (a town "OWNED AND OPERATED BY NEGROES"); and listings of friendly businesses by state. (You can read a full PDF here.) Green wrote in his introduction to this edition: "There will be a day sometime in the near future when this guide will not have to be published…It will be a great day for us to suspend this publication for then we can go wherever we please, and without embarrassment." And indeed, soon after the passage of the Civil Rights Act, the Green Book ceased publication.

Read More: http://www.slate.com/blogs/the_vault/2013/02/11/the_negro_motorist_green_book_the_mid_century_guide_for_african_american.html
Success Through Stillness: Meditation Made Simple
By Russell Simmons
Gotham Books
Book Review by Kam Williams
"Why should you meditate? The answer is simple: to be happy. Which is the only reason you're here. That might sound like a very simple take on the meaning of life, but I believe it with every fiber in my body. Yes, I'm certain that if we strip away our egos, desires, fears, and insecurities, all that would be left is happiness…I will lay out in this book represents the simplest route between your current state and that happiness… This is a simple and straightforward guide on how to use the tool of meditation to get the most out of your life." I'm here to tell you that meditation can take you there… The path that --Excerpted from Chapter One (pages 3-4)--
Russell Simmons is best known as the flamboyant playboy who cofounded Def Jam Records back in the Eighties. But the matured hip-hop mogul would like you to know that his satisfaction in life now comes less through the sort of shallow materialistic trappings celebrated in the average rap music video than through the peace of mind, body and spirit offered by the relatively-modest practice of meditation. As he puts it, "I had to do a lot of damage before I finally accepted that I liked early-morning meditation better than late-night drinking." And all it takes him is 20 minutes twice a day to find that state of bliss. The good news is that you can achieve it, too, provided you're willing to carve out a little quiet space from your hectic schedule to sit in a chair with your eyes closed. Yes, it's as simple as that, according to Rush, although getting novices to try meditation isn't as easy as one might think. Apparently, people allow lame excuses such as "I don't have the time," "I don't have a place," "It's against my religion," and "I'm not good at it" to prevent them from even getting started. For that reason, he's written Success through Stillness, a how-to primer designed to make that initiation process painless. Surprisingly, the author actually devotes more ink to advice about eliminating those negative thoughts than to instruction about the art of meditation. He also talks about its tangible benefits, which include improving your health, your eating habits, your ability to focus, even your career. Perhaps more important are the metaphysical improvements that accompany that new "sense of peace, compassion, and balance." Rush frequently refers to the ringing endorsements of meditation offered by icons ranging from Oprah to Ellen to Seinfeld to Paul McCartney to Phil Jackson. Consider this quote from Forest Whitaker: "I went through two schools of acting, but I learned more about acting from meditating and my martial arts teacher." 'nuff said. A sacred cookbook for cultivating a satisfying, stress-free life.

To order a copy of Success through Stillness, visit:
http://www.amazon.com/exec/obidos/ASIN/1592408656/ref%3dnosim/thslfofire-
Page 2 of 70
AABoomers.com is an online magazinefor and about the 9.1 million African-American Baby Boomers, those born between 1946 and 1964. (We are honored that President and Mrs. Obama as members of  our demographic.) (Click here to read more.)

It's Your Day Kid Parties
To Book your next party visit It's Your Day on the web at www.itsyourdaykidparties.com,
call (678) 926-8066 or email iydkidparties@gmail.com .